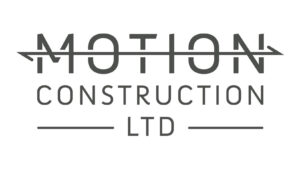 Custom Luxury Home Builder in Victoria BC
Residential and Commercial Contractor Serving the Greater Victoria area with Custom Luxury Homes
Motion Construction is a custom luxury home builder in Victoria BC, headed by Alan Stewart and his talented team. Alan grew up on Vancouver Island, born and raised in Maple Bay BC. Since a very young age, Alan has always been interested in design and construction. Alan worked in renovations for many years until finally starting Motion Construction back in 2014.
Alan resides in Victoria with his wife Robin and two young children Axel and Eve. He enjoys spending his free time with his family, golfing and traveling (when able). While many companies have a difficult time finding and keeping employees, we are very proud of the long standing team at Motion Construction. Teamwork makes the dream work and we're here to make your dream home a reality!
Motion Construction is largely focussed on building custom homes in the Greater Victoria area. Working together with clients we build the home they want. The relationship between customer and builder is very important and is managed fully by Alan himself. Contact Alan directly to discuss your home ideas and see why Motion Construction has been trusted to deliver on promises for the last decade in Victoria.
Custom Home builds are certainly our focus, but we also find ourselves handling renovations, laneway additions, garden suites and small commercial builds. Connect with Alan to discuss your needs.
We pledge to work together with clients to build the home you want, with open communication directly with the owner of Motion Construction – Alan Stewart. No middle men, no confusion, no miscommunication – instead a relationship with Alan to build the home you will be proud to live in for years to come.  
Custom Home Construction
Welcome to Greater Victoria's custom home builder, where dreams become reality. Our team of expert builders work tirelessly, paying attention to every detail to ensure a flawless finish. Discover the joy of living in a space that truly reflects your personality and meets the unique needs of your family. Let us embark on this exciting journey together and create a custom home that surpasses all expectations.
Residential Renovations
Whether you're looking to enhance the functionality of your space, upgrade outdated features, or add a touch of modern elegance, our expert team of renovation specialists is here to bring your vision to life. With years of experience and a passion for excellence, we take pride in delivering remarkable transformations that exceed expectations.
Infill Housing
As cities grow and available land becomes scarce, infill housing has emerged as a sustainable and efficient solution. At Motion Construction, we specialize in designing and developing infill projects that breathe new life into underutilized spaces, creating beautiful and functional homes in established neighborhoods. Our collaborative approach ensures that your ideas and preferences are at the forefront of the design process.
Commercial Renovations
As experts in the industry, we understand that your commercial property is a reflection of your brand and a vital asset to your success. That's why we are dedicated to providing exceptional commercial renovation services that breathe new life into your space, leaving a lasting impression on clients, customers, and employees alike. 
Tenant Improvements
As a premier provider of tenant improvement services, we understand that every commercial property is unique, and we take pride in tailoring our solutions to meet your specific needs. Whether you're a business owner, property manager, or landlord, we're here to enhance your property's appeal and functionality, creating an environment that fosters success.
Project Management
We understand that successful projects require meticulous planning, expert coordination, and unwavering attention to detail. That's why we offer top-tier project management services to ensure your ventures are executed with precision, efficiency, and on-time delivery. We take the stress out of project execution by providing comprehensive planning, resource allocation, and risk management.
Kudos from Victoria Clients
"We are absolutely thrilled with our new home in every way! Working together with Alan was what made the biggest difference for us. He is talented and had our best interests in mind the whole way through the build. We are so glad we chose Motion Construction as we cannot imagine the experience with anyone else being as personal or professional.  "
"Dealing with Alan and the Team at Motion was fantastic! They handled it all and we didn't have to worry, Alan is a great communicator and took care of everything so we could relax knowing that the end result would be exactly as we expected."
"Our new home is better than we imagined it could ever be. In today's world, it is rare to find a team of people you can truly trust to deliver on promises, but Motion Construction delivered for us. If you are considering building a new home in Victoria, I could not give a higher 5 star review! Call Alan and discuss your home plans. You will quickly see he is the right choice!
Motion Construction is proud to be an Accredited Business with the BBB. Building a home or commercial space starts with trust which is why BBB Accreditation is so important. They set market standards by encouraging best practices within each industry. After a thorough evaluation of each business, the BBB provides a grade; F is the lowest and A+ the highest. We are proud of our rating and hope this can be the beginning of your confidence in Motion Construction. 

Proud to use Nudera Insulated Concrete Forms
Our Insulated Concrete Forms (ICF) provide you the freedom and versatility to design and build a structure the way it was envisioned. The result is a more energy-efficient, sustainable and comfortable home or structure than those built with more traditional materials like wood or steel. Create the project of your dreams with ICFs and accessories that speed construction times and offer endless building applications.

Proud to provide Travelers New Homeowner Warranty
We offer New Home Owner Warranty Coverage as part of all our new construction builds, through Travelers Insurance. Travelers Canada provides the mandated 2-5-10 year home warranty insurance for purchasers of new homes through a network of more than 1,600 licensed builders.
Administration
1060 Transit Rd.
Oak Bay BC,  V8S 5A2